A TRIP TO BARCELONA will raise the spirits of even the most seasoned traveller. This amazing city has some of the most beautiful scenery and a countless of things to do and places to explore.
For example, the Magic Fountain Show, where water, light and music combine into one wonderful spectacle that's been impressing tourists since 1929 – an estimated 2.5 million visitors are bowled over by 'la font magica' each year. Then make a trip to Tibidabo Hill, an old-fashioned amusement park that's fun for all the family, present a vintage carousel and a plane ride that gives majestic views over the city. Alson Church of the Sacred Heart of Jesus is very stunning building at Tibidabo Hill.
And be sure on your TRIP TO BARCELONA to explore some of the old buildings. The most famous of these is the La Sagrada Familia church, designed over 100 years ago by Gaudí. It features some astonishing facades, in particular the intricate nativity scene. Despite the age of the church, it remains unfinished – with a target date of 2026 for completion.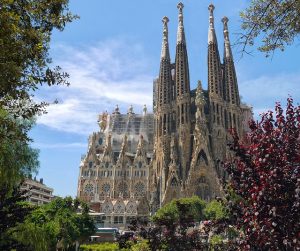 If you enjoyed the sights of La Sagrada Familia, you definitely must visit Casa Batllo and Casa Mila, also designed by architect Antoni Gaudí. Then you can go a trip to Barrio Gotico. This is the Gothic area of Barcelona, and is packed with old churches, markets and museums, as well as some fashionable restaurants and stores.
Speaking of stores, the sprawling La Rambla street offers much opportunity for shopping, socialising, drinking and eating over its route from the central square to the harbour. It's at the street's Font de les Canaletes fountain that Barcelona football fans to assemble to celebrate victories. And if you're a football fan, then you should take a trip to Barcelona FC's Camp Nou stadium to watch a game, and learn about the history of the club at its museum. Then, once you've been to one museum, you might be in the mood for another – and the Picasso Museum is a must-visit, featuring many of the famous artist's early sketches and lesser-known pieces.
This city is one of Europe's jewels – we're sure a TRIP TO BARCELONA will leave you with many great memories.