It's known as the 'city of love', yet a trip to Paris offers so much to see and do whether you're planning a family holiday, a romantic break or a fun vacation with friends.
You should start at the most visible place and take a trip up the Eiffel Tower. It's quite a climb at 984 feet, but the amazing views over Paris make it well worth the effort – and, if you are feeling romantic, it's the perfect place to share a hug with a loved one.
Of course, while on a trip to Paris, it's necessary that you head to the Louvre museum and visit the most famous painting in the world, Da Vinci's Mona Lisa – as well as sculpture by Michelangelo and artwork by Raphael and Caravaggio. The Louvre Pyramid (Pyramide du Louvre) is a large glass and metal pyramid and is a wonderful piece of architecture. It has been claimed that the glass panes in the Louvre Pyramid number exactly 666, "the number of the beast", often associated with Satan.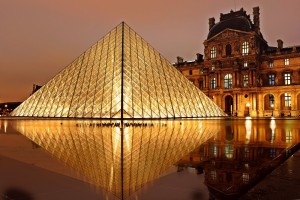 There are other fascinating historical attractions to visit. The famous Arc de Triomphe remind those who fought in the French Revolution and Napoleonic wars, and Notre Dame Cathedral's gothic architecture is a wonder that must be seen – and make sure to listen out for the tolling of the Cathedral's bells.
But after so much history, you might be in need of some light relief – and, of course, Paris is home to Disneyland Paris, the perfect attraction for those with young children (or even those without). Take a trip here and you can enjoy rollercoasters, water rides, shows and lots more, all themed around your favourite Disney cartoons and characters – and you might even get to meet Mickey Mouse! And once that's done, a short hop will see you arrive at Parc Asterix, a theme park based on the popular cartoon character of the same name where you can enjoy even more rides – including an inverted rollercoaster.
And after that, you'll need to wind down with some retail therapy on the Champs Elysees, where you'll find all kinds of high-end designer outlets, as well as names like Nike, H&M, and the largest Gap store in Europe.
All that is just the tip of the iceberg – a trip to Paris offers a never-ending collection of attractions. Make the time to explore this amazing city and enjoy a break you'll never forget.