For those interested in the sights, sounds and smells of Eastern Europe, a trip to Prague, capital of the Czech Republic, is necessary.
Wenceslas Square with famous statue is the main area of Prague for drinking, eating, shopping, and socialising, and is packed with vibrant hotels, restaurants, nightclubs and bars and is where tourists and locals both flock to for an evening out.
For those more interested in seeing the sights, just five minutes from Wenceslas Square is Old Town Square, Prague's other main centre, full of ancient buildings and churches, including the majestic Old Town Hall Tower with Astronomical Clock. And once you've explored the area to your heart's content, you can relax at one of the many pavement cafes around the square to enjoy a coffee, wine – or something stronger.
Then, when you're ready, you should make a trip to Prague Castle, the city's most famous attraction. Prague Castle is most important places of the city where the Czech Republic's President rules from, and offers an array of towers and courtyards across its 18 acres, including the stunning St Vitus Cathedral, which dominates the Prague skyline.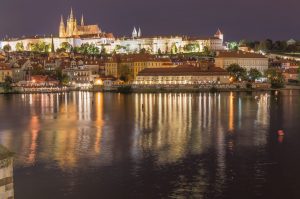 There are many more historical attractions in Prague for you to enjoy on your trip. The National Museum is located on the upper end of Wenceslas Square and offers several expositions, Museum of Communism offers insight into the lives of Prague residents in communist times, while the Jewish quarter features six old synagogues and the fascinating Jewish Museum to enjoy.
And for those who enjoy walking, a trip along the Vltava River, running through both the Old Town and the New Town, will allow you to truly soak in the atmosphere of Prague. It offers an astonishing view of the city from the Charles Bridge, built in 1357 by King Charles IV. If rivers aren't the watery attraction you're looking for, then Sea World – the largest Sea World in the Czech Republic – is full of wonders from the ocean, from tropical fish to sharks. It's a great way to finish your trip to Prague.