A trip to Rome is necessary for lovers of history. Your first stop should be a visit to the ancient and fascinating Colosseum, built in AD72 to allow over 55,000 spectators to enjoy the thrill of a gladiatorial battle. Here, you'll also find the famous Arch of Constantine, a spectacular arch erected in AD315. Then there's the ruined Roman Forum, previously the commercial and social heartland of Rome, and the Pantheon – a Roman temple dedicated to the pagan gods, and the most preserved of all the buildings of Ancient Rome.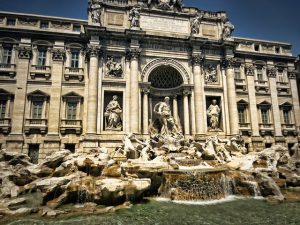 Then you should visit the Trevi Fountain. Trevi Fountain is the largest baroque fountain in the city and one of the most famous fountains in the world. Legend holds that in 19 BC thirsty Roman soldiers were guided by a young girl to a source of pure water.
You should also make time for a trip to Vatican City, the Papal Residence, where Catholics all over the world gather. It's also home to the Sistine Chapel, whose ceiling was famously painted by renowned artist Michelangelo, and the beautiful Vatican Gardens – it's well worth taking the chance of a trip around the fountains, ponds and enclosures of this peaceful space.
However, the city is also famous for its unending choice of fantastic places to meet and socialise. A trip to Rome offers clubbers a choice of exclusive clubs and bars such as Nazca, Neo Club and Enocentrico while the Piazza Navona and Via Della Pace feature many chic wine bars and restaurants where, of course, you can find some of the finest pasta and pizza dishes imaginable.
A trip to Rome is also perfect for fashion lovers and shopaholics. The Piazza di Spagna features many exclusive boutiques offering high-class labels including Gucci and Prada, while the centre of the city is where the largest and liveliest markets are located, selling clothing, food and all kinds of bric a brac – but they open at 7am, so arrive early for the best bargains.
Rome is the perfect place for a trip, where you can take in some history and enjoy some intoxicating nightlife. We recommend you pencil in a visit to this beautiful city on your itinerary.