TAKING THE EUROSTAR FROM PARIS TO LONDON – WHAT TO EXPECT
…by Marie-Eve Vallieres
There truly is something irresistibly romantic about the idea of train travel in Europe, isn't there? I've admittedly done rather extensive, practical research on the process and rode trains in about a dozen countries across the Old Continent (using a Eurail pass most of the time), which I can partly attribute to my fear of flying; but aside from the fact that I'm utterly useless around airplanes, I just genuinely enjoy riding trains.
And that includes crossing the Channel in the brand new Eurostar.
Did you know, for example, that upwards of 95% of Eurostar trains arrive on time or within 15 minutes, whilst competing short-haul flights typically manage only 65-70% measured by the same standard. Not surprisingly, Eurostar has now captured over 70% of the London-Paris market from the airlines.
I was recently given the opportunity to experience the First-Class Business Premier class between Paris Gare du Nord and London St Pancras. Here are my impressions along with a few practical tips to help you prepare for your very own journey across the Chunnel.
What's It Like to Ride the Eurostar from Paris to London?
Having arrived at Gare du Nord a solid hour and a half prior to scheduled departure time (you can never be too early in Parisian traffic) and having gone through immigration and security swiftly, I sat comfortably in the newly-renovated Business Premier lounge for a little while. Sipping on a complimentary glass of wine, admiring the 19th-century features, munching on canapés, I watched business men type furiously on their computers, eager to get as much work done as possible before their inevitable parting with Wi-Fi and modern civilisation.
Needless to say, the lounge is tastefully decorated and welcoming throughout, with numerous quiet nooks and, most importantly, charging stations and clean washrooms.
Mind you, there is ample seating and washrooms elsewhere in Gare du Nord station, but they are both far more chaotic than the Business Premier lounges.
Onwards to the trains after a timely announcement in the lounge. My seat is in one of the rear trains and so I head towards that direction, eager to store my luggage and find my seat.
I was a little worried that I wouldn't be able to fit my gigantic, unmistakably North American suitcase in one of the compartments at either ends of the train but that simply was a gross underestimate of how efficient and stylish Europeans are even with the tiniest of suitcases.
And just a few minutes, it's time to bid Paris adieu (au revoir would be more appropriate, as I can never stay away for too long), as we make our way to London a mere 300 kilometres per hour.
Pictured below was dinner, a combination of quinoa salad and quiche along with an excellent chou for dessert and, France being what it is, a cheeky bottle of wine for one. Simply delightful.
A note on Standard Premier Class: while the Eurostar's Standard class is perfectly acceptable and comfortable, especially on the newer e320 trains, Standard Premier does offer more generous legroom and wider seats as well as a light meal. There usually are fewer families in Standard Premier carriages, too, resulting in more tranquil journeys.
Fun fact, the Channel tunnel is 50,45 kilometres long and is just one of the three tunnels crossed by the Eurostar from Paris to London. The tunnel is 195 metres deep at its deepest point. You'll know you're in when you feel your ears pop!
And just like that, I arrive in style at London St Pancras, a mere two and a half hours later but seemingly worlds away from the French capital.
Is the Eurostar from Paris to London the best? Absolutely. The Eurostar completely obliterates the stress of airport transfers, cumbersome security checks and incredibly shrinking airplane seats; in short, it's the carefree, comfortable and efficient way to travel between the two capital's centres.
Eurostar from Paris to London – Practical Tips
FINDING THE CHEAPEST EURandard Class.
The earlier you book, the cheaper; tickets can be reserved as early as 180 days ahead. Keep in mind, however, that Eurostar tickets are subject to dynamic pricing much like airlines; in other words, cheaper seats sell the fastest and prices increase dramatically as travel dates approach.
If pricing is the main concern, opt for off-peak journeys as they are more affordable than say, Friday afternoon or Sunday evening trains, which are hugely popular. That's just the logic of offer and demand: the more popular the route, the least likely it is to have large numbers of unavailable seats, the more expensive each individual seat will be.
As for the actual, physical tickets, there are three options: use a third-party site such as RailEurope to have tickets delivered straight to your address, print at home or use a self-service ticket machine at the train station right before check-in to retrieve your ticket.
Note that travel on Eurostar requires a separate ticket and cannot be used in conjunction with rail passes. However, many passes include discounted rates called a Passholder fare.
RIDING THE EUROSTAR
Note that there is an hour's time difference between London (UTC+0) and Paris (UTC+01:00).
The Eurostar crosses the border between the Schengen area and Britain, and therefore is subject to immigration checks before boarding. Arrive at the station at least one hour prior to scheduled departure time to allow enough time for customs and security checks. It's a much smoother process than it would be at the airport, questioning is straightforward, and security does not require passengers to take their shoes off. If you're a citizen of a non-EU country, you will need to complete a landing card to hand to immigration staff.
The latest you can check-in is 30 minutes prior to departure.
Boarding commences approximately 20 minutes prior to departure.
You MUST always keep your passport handy during the journey. Do not leave it in your suitcase 10 rows down under any circumstances.
As mentioned earlier, there are luggage compartments on either ends of each train for larger suitcases. There is also overhead storage for smaller items such as laptop bags or carry-on luggage.
 ...................................................
5 Things the World Can Learn from London
By Stephanie @TravelBreak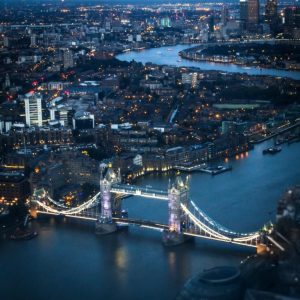 View at the Shard, London via @StephBeTravel
There are some things London just does better.
It's time to take notes world!
Buckingham Palace via @StephBeTravel & @TravelShootCo
London Knows How to Embrace Expats
Sure, it's not 100% easy, and of course there is no possibility of absolutely zero discrimination in any city, but London is one step ahead of the game on welcoming people from around the world.
As I took a jog around Shoreditch, home to an American friend living in London, the melange of cultures was so clear. If not the most international city in the world, London is one of the top, offering opportunity to a vastly diverse global community.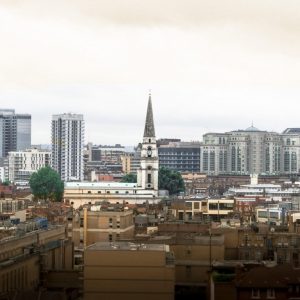 View from my friend's apartment in Shoreditch
London Nails Public Transit
When the tube breaks down, all hell breaks loose in London. People literally are excused from coming to work if there is a tube strike.
However, the London subways and train system are inarguably one of the most effective, running often and with numerous stops. Although it does get a bit crowded, the trains will get you from Point A to Point B in a busy city.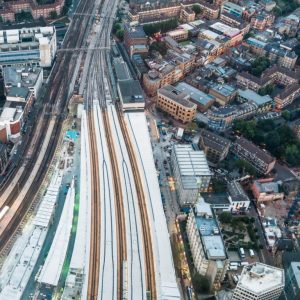 View at the Shard, London via @StephBeTravel
London Appreciates Great Weather
London boasts gorgeous parks that are perfect for picnics! I went on amazing picnics both times I've visited London.
Greenwich Park, Hyde Park, Regent's Park — pick a park, any park. There are so many! As a sucker for sunshine, there is nothing lovelier than a bunch of people in a good mood because of lovely weather.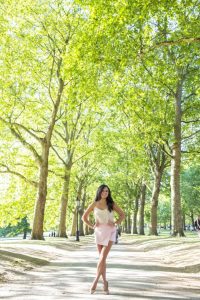 Hyde Park via @StephBeTravel & @TravelShootCo
London Rocks International Cuisine
Indian food in London is like Mexican food in California. Italian food in London is like Mexican food in California. Pretty much all food in London (except for Mexican food) is like Mexican food in California.
Indulge!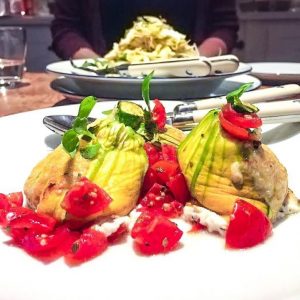 Theo Randandall London   – fine cuisine
Speaking with a British Accent
Have mercy. Point end.
……………………………………………………………………………………………………………………………………..
Tour in Europe
Europe offers so many wonderful sights and attractions that a tour in Europe is a must for anyone who loves travelling.
For the sun lovers, a tour in Europe offers such relaxing getaways as the south of France, where regions such as Provence and the Cote d'Azur are sun drenched. Greece and Portugal are other great destination for sun lovers. Alternatively, the Spanish islands of Ibiza, Magaluf and Benidorm afford much opportunity to get tanned.
Speaking of those three destinations, lovers of nightlife enjoying a tour in Europe should be sure to make a stop at those islands – especially Ibiza, famed for its lush nightlife. Dance lovers should also be sure to head to London on their tour – home of nightclubs such as Cream and Ministry of Sound – as well as cities such as Berlin and Amsterdam, all loved by tourists from around the world for offering a great night out.
If you're simply sightseeing enthusiast, then a tour in Europe has it all. Rome features tourist spots such as the fabled Coliseum and the Trevi Fountain; Paris offers famous attractions like the Eiffel Tower and the Louvre; a tour of Dublin will let you see the fantastic city castle and Guinness Storehouse, while Eastern European countries such as the Czech Republic, Poland and Lithuania each have their own special histories to tell. And if you've an eye for the breathtaking nature, then a trip to Scandinavia to see the awe-inspiring Northern Lights in Norway is something you'll never forget.
Shopaholics, meanwhile, will love the luxury boutiques of Milan, the fashionable stores of Paris, the big-name stores of London and the famous flea markets of Brussels and Barcelona.
A tour in Europe really does have it all. We're sure that as soon as you get home, you'll start planning your next European trip – you'll want to tour all over again as soon as possible and see anything you missed the first time!