Europe encompasses an area of 10,400,000 km² (4,000,000 square miles). European countries welcome more than 480 million international visitors per year, more than half of the global market, and 7 of the 10 most visited countries are European nations.
It's easy to see why – a well preserved cultural heritage, open borders and efficient infrastructure makes visiting Europe a breeze, and rarely will you have to travel more than a few hours before you can immerse yourself in a new culture, and dive into a different phrasebook. Although it is the world's smallest continent in land surface area, there are profound differences between the cultures and ways of life in its countries.
CZECH REPUBLIC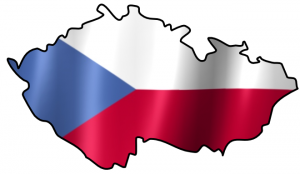 • Year of EU entry: 2004
• Political system: Republic
• Capital city: Prague
• Total area: 78 866 km²
• Population: 10.5 million
• Currency: Czech koruna
• Listen to the official EU language: Czech
The Czech Republic is a small landlocked country in Central Europe, situated south-east of Germany and bordering Austria to the south, Poland to the north and Slovakia (with which it used to form one country of Czechoslovakia) to the south-east.
The Czech Republic contains a vast of amount of architectural treasure and has beautiful forests and mountains to match. On 1 January 1993, the country underwent a "velvet divorce" into its two national components, the Czech Republic and Slovakia. Before World War II, Czechoslovakia was one of the 10 most industrialised states in the world, and the only central European country to remain a democracy until 1938.
The Czech capital, Prague, is more than 1 000 years old and has a wealth of historic architecture of different styles. Because of this, the city has become a favoured location for many international film makers.
The Czech Republic produces world-famous beer, including Pilsner. Wine is produced in the southern regions of Moravia and in part of Bohemia. A record 900 natural springs have also ensured that the country produces plenty of mineral water. The chief crops are maize, sugar beet, potatoes, wheat, barley, and rye. Traditional dishes include "knedlíky", a type of dumpling made from potatoes or bread.
Famous Czechs include the Art Nouveau artist Alfons Mucha, composers Antonin Dvorák and Bedrich Smetana, marathon runner Emil Zátopek and the writers Franz Kafka and Milan Kundera.
SLOVAKIA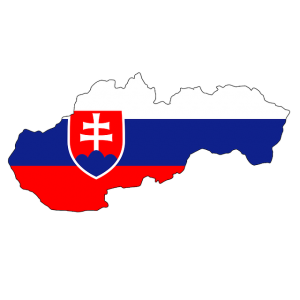 • Year of EU entry: 2004
• Political system: Republic
• Capital city: Bratislava
• Total area: 48 845 km²
• Population: 5.4 million
• Currency: euro
• Listen to the official EU language: Slovak
Slovakia became an independent state in January 1993 after Czechoslovakia split into its two constituent parts. The country is in the heart of central Europe, linked to its neighbours by the River Danube. The Carpathian Mountains extend across the northern half of the country and include the High Tatras – a popular skiing destination and home to the country's highest peak – the 2 655 m Gerlachovsky. The lowlands of the Danube plain provide a fertile farming region producing wheat, barley, potatoes, sugar beet, fruit, tobacco and grapes.
Ethnically, the population is 86% Slovak; Hungarians are the largest minority.
Perched on many hilltops are fortifications that bear witness to Slovakia's long history of invasions. Bratislava, the coronation place for the kings of Hungary in the past, has a rich heritage of medieval and baroque architecture.
Traditional meals include potato dumplings with sheep's cheese and cabbage soup with sausages.
Among the best-known Slovaks are Štefan Banič who invented the parachute in 1913, and Andy Warhol, the American-born pop artist, whose parents were from Slovakia.
AUSTRIA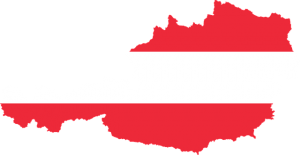 • Year of EU entry: 1995
• Political system: Federal republic
• Capital city: Vienna
• Total area: 83 870 km²
• Population: 8.3 million
• Currency: euro
• Listen to the official EU language: German
The Alps dominate the western and southern parts of Austria while the eastern provinces – including Vienna, the capital – lie in the Danube basin.
Until the end of World War I, Austria had been the center of a vast empire, which controlled much of central Europe for centuries. Austria is now a federal republic, consisting of nine states. Vienna hosts a number of international organisations, including the Secretariat of the Organisation for Security and Cooperation in Europe, the International Atomic Energy Agency and the Organisation of Petroleum Exporting Countries.
Austria has a rich cultural heritage. Wolfgang Amadeus Mozart occupies a place of his own as a composer, while the music of Franz Schubert also enjoys great popularity. In the world of philosophy and ideas, the work of Siegmund Freud continues to provoke controversy, while Ludwig Wittgenstein was one of the major influences in 20th century philosophical thinking. In art, the paintings of Gustav Klimt from the late 1800s are widely admired.
In cuisine, Austrian specialties such as Wiener Schnitzel and Apfelstrudel have become international dishes which need no translation.
HUNGARY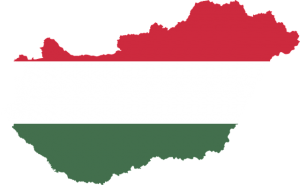 • Year of EU entry: 2004
• Political system: Republic
• Capital city: Budapest
• Total area: 93 000 km²
• Population: 10 million
• Currency: forint
• Listen to the official EU language: Hungarian
Hungary is a landlocked state with many neighbours – Slovakia, Ukraine, Romania, Serbia, Croatia, Slovenia and Austria. It is mostly flat, with low mountains in the north. Lake Balaton, a popular tourist centre, is the largest lake in central Europe.
The capital city, Budapest, was originally was two separate cities: Buda and Pest. It straddles the River Danube, is rich in history and culture and famed for its curative springs. Hungary has a single-chamber parliament or national assembly whose 386 members are elected by voters every four years.
Hungary is a highly musical country whose traditional folk music inspired such great national composers as Liszt, Bartók and Kodály. Other famous Hungarians include Albert Albert Szent-Györgyi, who discovered the existence of Vitamin C, writer and Nobel Prizewinner Imre Kertész and Oscar-winning film director István Szabó.
ITALY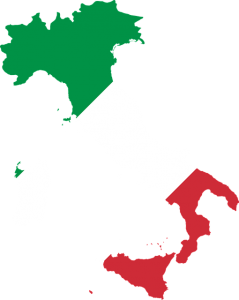 • Year of EU entry: 1958
• Political system: Republic
• Capital city: Rome
• Total area: 302 073 km²
• Population: 60,6 million
• Currency: euro
• Listen to the official EU language: Italian
Italy lies in Southern Europe, located in the heart of the Mediterranean Sea, Italy shares open land borders with France, Switzerland, Austria, Slovenia, San Marino and Vatican City.
Italy has more than 7,600km (4,722miles) of coast line as the peninsula is located for a large part in the Mediterranean sea. Italy has two bigger islands Sicily and Sardegna and many smaller ones such as Capri, Elba and Ischia. In the North, the mountain range of the Alps separates Italy from the other European countries France, Switzerland, Austria and Slovenia.
Italy has many hills and mountains and the highest mountain of Italy can be found in the Italian Alps which are the mountain range in Italy's north. It is the Monte Bianco, better known as Mont Blanc. There are many long and deep lakes and there are volcanos.
Italy has a long sporting tradition and has been extremely successful at international level in various sports. Football (soccer) is the most popular sport in Italy. Pizza is surely one of the most famous exports , it was invented in Napoli/Naples around 1860. Lasagna is layered pasta dish with tomato, mozzarella cheese and mince meat filling.
SPAIN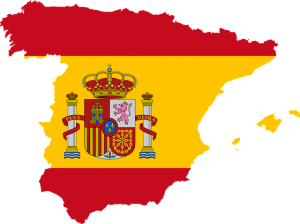 • Year of EU entry: 1986
• Political system: Parliamentary Monarchy
• Capital city: Madrid
• Total area: 505,990 km2
• Population: 47 million
• Currency: euro
• Listen to the official EU language: Spanish and Catalan
Spain lies in Southern Europe and borders the countries Portugal, Andorra and France. Spain is the second largest country in the Europe. Spain is the only European country which borders Africa. It is separated by Africa by the straits of Gibraltar and two of the cities belonging to Spain are inside Morocco.
Spain's countryside is quaint, speckled with castles, aqueducts, and ancient ruins, but its cities are resoundingly modern. The Andalusian capital of Sevilla (Seville) is famed for its musical culture and traditional folkways; the Catalonian capital of Barcelona for its secular architecture and maritime industry; and the national capital of Madrid for its winding streets, its museums and bookstores, and its around-the-clock lifestyle. Madrid is Spain's largest city and is also its financial and cultural centre, as it has been for hundreds of years.
Many Spanish people are soccer fans. The top soccer clubs are Real Madrid and FC Barcelona. Spain is known for its flamenco dance. In Andalusia, in many towns and villages people dance the flamenco for special festivities. Spanish are also known for their great festivals, such as the 'Tomatina' and the 'Running of the Bulls'. The 'Tomatina' festival in Valencia is the world's biggest food fight, as the people throw tomatoes at each other.
In Barcelona you can see many great works by Antoni Gaudi, especially in the fascinating Parc Guëll and the still unfinished Cathedral 'Sagrada Familia'. Famous food in Spain is Paella – a rice dish with seafood and meat.
France
•Year of EU entry: 1952
• Political system: Republic
• Capital city: Paris
• Total area: 643,801 km2
• Population: 67,7 million
• Currency: euro
• Listen to the official EU language: French
France is situated in Western Europe. The western-european country shares borders with Belgium to the North East, Germany and Luxemburg in the East as well as with Switzerland, Italy to the South East. The Pyrenees, a mountain range to the South of France, form a natural border between Spain and France. The highest mountain in France is the Mont Blanc, that is 4,810m high.
There are so many exciting places and landmarks, gorgeous beaches, historic cities and villages, ancient ruins and majestic castles to visit. France has some of the greatest beaches in Europe, as well as the highest mountains, historic monuments, the most beautiful cities and countryside, the most magnificent castles, rivers, the best restaurants and the finest wines and more hotels than any other country in Europe.
Gustave Eiffel a French engineer who designed the famous Eiffel tower in Paris, which is named after him. He also worked together with Auguste Bartholdi, designer of the Statue of Liberty in New York.
The French main dishes contain: fresh vegetables, meat and cheeses. The French people enjoy their main meal in the evening and this meal often consists of three courses a starter dish which often is soup or a salad and bread, then the main course and afterwards some cheese or fruit.The bread you will get in France is white wheat bread or bread sticks, called "baguette". Croque Monsieur/Croque Madame: ham and cheese grilled sandwich while Croque Madame is the more heavy version with ham, cheese and a fried egg on top. Typical meal in France are snails and frog legs.
Norway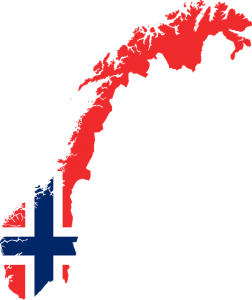 •Political system: Monarchy
• Capital city: Oslo
• Total area: 385,178 km2
• Population: 5,3 million
• Currency: Norwegian krone
• Listen to the official EU language: Norwegian
Norway lies in northern Europe, in Scandinavia, and lies above the Arctic circle. It is part of Scandinavia with neighbouring countries Sweden, Finland and Denmark.
Norway is a fjord country with many great fjords to visit, like the Sognefjord, which is the biggest fjord in Norway with its 180km long finger.
The most spectacular fjord is often said to be the Geiranger fjord. This fjord which is surrounded by snow capped mountains and many waterfalls is a UNESCO world heritage site.
Norway's culinary traditions show the influence of long seafaring and farming traditions with salmon – fresh and cured, herring (pickled or marinated), trout, codfish and other seafood balanced by cheeses, dairy products and breads.